Frequently Asked Questions
Grout
Do I need grout? Why
---
Yes! You do need grout! Grout is used as a filler for the joints between tiles once the tile you are installing has been set. It helps keep dirt and debris from getting in between and under your tile. It adds rigidity and strength to the tile installation.
---
How do you mix grout?
---
Please check out this video from our grout manufacturer on how to mix grout!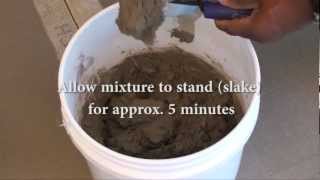 ---
What is the smallest grout joint I can use?
---
It all depends on the tile. We have some wall tiles that are self-spacing and don't require you to manually space out the tiles. You simply abut the tiles against each other and the way the tile is cut will leave the perfect grout joint. For pressed tiles, generally you should have at least a 1/8" grout joint between tiles to make up for any size imperfections in the tiles. For rectified tiles, you can usually get a 1/16" grout joint assuming the sbustrate is suitable for grout that small. If there are imperfections in the subfloor, you may be better suited to increase the size of the grout joint. Ultimately, it all depends on the quality of the substrate and what kind of tile you have. Your installer should be consulted with in order to come to any conclusions about installation.
---
How often should grout be sealed?
---
In high traffic areas or frequently used showers, we recommend at least once per year. Depending on the installation (especially in showers/ shower floors) sometimes every 6 months is ideal. Please make sure your grout is CLEAN before sealing it otherwise you will be sealing all of the dirt into the grout. Sealing "too often" or "too much" will not hurt the grout.
---
How do you pick a grout color?
---
Typically, once you have selected your tile, you will review our 40 grout colors and see what suits the look you are going for. Most times, you are trying to find the grout color that will disappear into the installation seemlessly. However, in some cases you may want a contrasting grout color. As with most of the tile selection process, it is entirely up to personal prefference.
---
What is the difference between sanded and unsanded grout? Where should one be used over the other?
---
Generally, unsanded grout should be used in joints that are less than 1/8-inch-wide. It has a smooth texture and clings well to vertical surfaces, which makes it useful for grouting ceramic wall tiles. Sanded grout should be used for flooring and wall tile joints wider than 1/8 inch because it resists shrinkage and cracking. We have what is reffered to as a "universal grout." It has an agregate in it that is smaller than that in a typical sanded grout, so you can still get a very small grout joint but also have the benefits of the sturdiness of a typical sanded grout. Laticrete's Permacolor grout also has the added benefit of anti-microbial technology to prevent mold and mildew buildup in your grout joints.
---
What should I clean my grout with?
---
We recommend the Laticrete Stonetech KlenzAll Cleaner. We have found it produces great results, and keeps your grout safe. Regardless of what you decide to use, we advise against anything acidic, as acidic cleaners tend to break down grout over time and could result in "dissappearing grout" or your grout falling out.
---
---
Tile
What is the difference between porcelain and ceramic?
---
Generally speaking, porcelain tends to be a thicker, more durable, less porous tile. Porcelain can be used on both walls and floors. Ceramic on the other hand, tends to be thinner and slightly more porous (still perfectly fine for wet areas). In most cases, ceramic is only suitable for walls, and is not recommended for steam-room showers due to the extreamly high moisture in steam-room installations.
---
What is the difference between a glazed tile and a glossy tile?
---
Many people assume the word "glazed" means shiny or glossy. However, in the tile industry, the word is used to refer to the coat of enamel or liquid glass that is applied to almost all ceramic and porcelain tiles. Glaze is a substance, rather than a description. The glaze can be a matt or glossy finish.
---
What does "rectified" mean?
---
A tile that has been "rectified" has had all its edges mechanically finished in order to achieve a more precise facial dimension. The process involves cutting or grinding a tile to a specific size. A tile with rectified edges allows you to achieve a 1/16 inch grout joint in installations where the subfloor is sutible. (Who doesn't like less grout?!)
---
Why do some tiles cost more than others?
---
There are lots of different reasons some tiles cost more than others. Some factors that often contribute to a tile that costs more are: - Where the tile is manufactured - Thickness of the tile - Tile finish - Weather the tile is glazed of through-body - Weather the tile is pressed or rectified
---
Why don't you recommend most glossy tiles for floors?
---
A smooth, glossy surface tends to be more slippy than a matt surface – particularly when wet. Therefore, it's usually not a good idea to use a gloss tile for flooring – and particularly for bathroom or wet-room flooring or in high traffic areas such as entrance halls. The exception to this rule is when a tile passes the DCOF slip resistance test. This test is run by factorys to measure how slip resistant a tile is when wet. Currently, we only have one manufacturer (Novabell) that produces glossy tiles that pass the DCOF requirements.
---
What are some advantages of using porcelain or ceramic instead of marble?
---
The short answer is; maintnence! Natural stone is very porous and requires regular sealing to prevent discoloration. Porcelain and ceramic on the other hand do not require regular upkeep. The only thing you should have to worry about getting/staying dirty in a porcelain or ceramic installation is the grout.
---
Why do I have to put such small tiles on the shower floor?
---
Unless you are doing a linear drain, generally you have to keep the shower floor tile around 4"X4" or smaller. (Most manufacturers make 2"X2" tiles for the shower floor) The reasoning behind using the smaller tiles is to allow the shower base to be pitched to the drain. Larger format tiles require very precise cutting and expertise to be used on a shower floor, whereas smaller mosaics bend with the pitch of the shower base much more easily.
---
There are stickers all over the showroom floor that say "maximum 33% overlap." What does that mean?
---
Any tile in our showroom with an edge greater than 15 inches has one of those stickers on it. That is because any tile with an edge greater than 15 inches has a slight bow as a result of the manufacturing process. It's because of the slight bow, if you stagger the tiles at a 50% overlap you'll be setting the highest part of the tile, the middle, next to the lowest part of the adjacent tile, the ends. You'll end up with significant lippage at best, and with a basket weave appearance at worst.
---
What is a through body tile?
---
Through body porcelain (sometimes referred to as unglazed porcelain) tiles are produced using colored raw materials that permeate the entire tile, incorporating uninterrupted color and pattern features seen on the surface all the way through the tile body.
---
Should I pick out my countertop or backsplash first?
---
We recommend picking out the countertop first, as that tends to be the focal point of the kitchen. Once you have a countertop that you love, it makes it easier for us to recommend options that will help tie your kitchen together. That being said there's no right or wrong way to do it.
---
---
Trim
Why don't all tiles come with a bullnose trim?
---
Generally, most of our European made wall tiles are not available with a bullnose trim because most European countries do not use bullnose. Instead, they opt to use a much thinner "quarter- round" trim piece OR a Schluter trim piece.
---
What is a bullnose? What are the alternatives to bullnose?
---
Bullnose is a tile with a finished edge. Typically you would get the bullnose that corresponds with the tile you are getting. If there is no corresponding bullnose, there is sometimes a quarter-round tile that corresponds. Quarter-rounds have the same effect as bullnose but a much slimmer profile. If neither the bullnose or quarter-round are available for your tile, a great alternative would be a Schluter trim. Schluter profiles come in various shapes and colors and are always a great option and provide the added benefit of protecting the edge of the tile.
---
---